Gallery of Presidents
PhD. Salomón Lerner Febres
Term: 1994-2004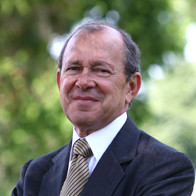 Salomón Lerner Febres served as president of Pontificia Universidad Católica del Perú from 1994 until July 6, 2004. Ten productive years, marked by a variety of institutional initiatives, but also by the term in which he had the huge responsibility of leading the Truth and Reconciliation Commission.
His elementary studies were completed at La Salle school and since an early age he accomplished academic achievements. He was admitted to PUCP occupying the first place, and after the first two years of Arts, he studied Law and Philosophy. Salomón Lerner Febres was always an outstanding student, he started teaching at an early age in 1962, when he was in his second year of Law and Father Felipe Mac Gregor called him to be his assistant professor, the beginning of his life as teacher. In 1968, he was granted a scholarship for doctoral degree at the Catholic University of Leuven, in Belgium. Upon his return, his reincorporation as professor of Philosophy was soon enriched with a broad administrative career: before becoming president, Salomón Lerner had held different administrative positions, as dean of Arts, head of the School of Humanities, academic director of Research and vice-president.
In 1994, the University faced new challenges, which continue today: competition of new private universities, dizzying technological changes, the necessary curricula restructuring. Since then, the effort to consolidate itself as the leading institution in the field of education has not stopped and, on the contrary, achievements were obtained year after year, establishing its presence in the academic, intellectual, cultural, scientific and social life of our country. The academic initiative was expressed in the creation of the Schools of Sciences and Arts of Communication, as well as Architecture and Urbanism, and Centrum (Business Center of the PUCP), in addition to multiple initiatives at the undergraduate, graduate and continuing education levels.
However, his participation is not limited only to the borders of our university. PUCP increased its academic prestige, becoming a public's voice within our society. It also gained ground among the most important universities in Latin America by signing agreements and establishing links with other institutions of recognized quality; in addition to being commissioned to preside, through PhD. Lerner, the Union of Latin American Universities (UDUAL, for its Spanish acronym) and being the center of the ALBAN scholarships granted by the European Union.
On the other hand, his career as professor, intellectual and, finally, president of PUCP allowed him to be elected in 2001 by the transitional government of PhD. Valentín Paniagua to take on the critical task of heading, as president, the recently formed Truth and Reconciliation Commission. From this responsibility, PhD. Lerner Febres, along with other commissioners, gave the first and essential steps of the painful but urgent path of realizing what happened in our country during the years of political violence.