Gallery of Presidents
Rev. Father Jorge Dintilhac SS.CC.
Term: 1917 - 1947 / 1924 - 1946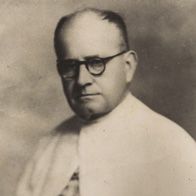 Rev. Father Jorge Dintilhac SS.CC. founded our university in 1917. To undertake such a great educational enterprise he had the help of several people and institutions, who celebrated with him the supreme decree of March 24, 1917 signed by President José Pardo y Barreda, and the Minister of Instruction, Wenceslao Valera, through which Universidad Católica was established as the first private university in the country.
Born on November 13, 1878 in Provins (France) with the name of Luis Eugenio, he was linked from his childhood to the Congregation of the Sacred Hearts, where he became a priest (ordained in Lima, Peru) and to which he belonged until his death, on April 13, 1947 in Lima.
With a fluent and well-spoken Spanish, Rev. Father Dintilhac arrived in Peru from Valparaíso. After continuing his theological studies at Universidad Nacional Mayor de San Marcos, he started the idea of ​​forming a Catholic center for higher studies. Rev. Father Dintilhac was the first president at Universidad Católica, which he governed for thirty years (with few brief interruptions). During his term, the institutional name, Pontificia Universidad Católica del Perú, was defined and, from the opening speech, the current aspect of the PUCP was planned.
The best witnesses, his disciples, have always referred to Rev. Father Dintilhac with praise and impartiality. Adriana Flores de Saco highlights his "humility, serenity, balance and dignity". Ernesto Alayza Grundy says that "he was of natural timidity, but firm and determined to reach the objectives that he set out". Alberto Wagner de Reyna points out that "he was not 'the president', but simply Father Jorge, the undisputed personification of the university." José Agustín de la Puente Candamo recalls that Rev. Father Dintilhac "was a fair man, a good man, a minister of God who, as professor of Recoleta School and following the apostolate mission, felt the need to found a catholic university to be testimony of the Church's presence in the intellectual life and a become a center of youth Christian education".