Gallery of Presidents
Rev. Father Felipe Mac Gregor, S.J.
Term: 1963 - 1977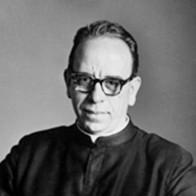 Rev. Father Felipe Mac Gregor, S.J., president during 14 critical years for the development of PUCP, and president emeritus, is one of the most active figures in the recent life of our country. Priest, professor and concerned citizen, his interest in the development of a culture of peace may be seen as his fundamental contribution to the intellectual life of Peru. During his term as president, he also promoted the generation of valuable ideas.
Rev. Father MacGregor joined as teacher at the PUCP in 1948, delivering classes such as ethics and logic; he was a licentiate in philosophy and theology, and later a PhD in philosophy. In addition he was called to consecrate life in 1944.
Summarizing Rev. Father MacGregor's work as president would be almost impossible; it is enough to say that he presided the great plan of institutional renovation that allowed the university to move from small premises in Lima downtown to the current campus; also participating in the creation of training and improvement programs for teachers of different areas, by signing agreements that allowed the arrival of teachers to our campus.
The current face of PUCP owes a great deal to Rev. Father MacGregor, both physically and spiritually, as it has been renewed and updated during these 14 years. For that reason, after leaving the post, the University Assembly named him President emeritus.
The following years showed a Rev. Father Mac Gregor committed to both the University and Peru: he was president of the Statutory Assembly of 1984, as well as president of the Peruvian Peace Research Association since 1983. He has also received Peruvian and foreign awards, such as "Orden del Sol" (Order of the Sun) or the UNESCO Human Rights Award.
The Rev. Father Felipe Mac Gregor, S.J., passed away on October 3, 2004 at the age of 90.