Gallery of Presidents
Doctor Efraín Gonzales de Olarte
Term: 2018 - 2019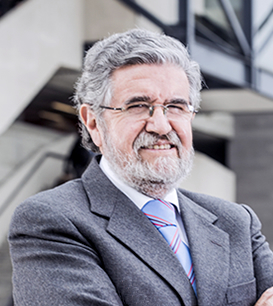 Es profesor principal del Departamento de Economía. Ingresó a la docencia en 1979, y es profesor nombrado desde 1981. Ha sido Director Académico de Economía y Jefe del Departamento de Economía. Es especialista y consultor internacional en Economía del Desarrollo, Economía Política, Desarrollo Humano y Economía Regional. Es autor y compilador de 25 libros y más de 150 artículos sobre: ajuste estructural, economías regionales, descentralización, políticas económicas, economía institucional, desarrollo y crecimiento económico, economías campesinas y desarrollo humano. También ha sido director general del Instituto de Estudios Peruanos, presidente del Directorio de Electro Sur Este, director ejecutivo de la COPRI, entre otros cargos.
Efraín Gonzales de Olarte es economista (UNSAAC), licenciado y máster en la Universidad Católica de Lovaina (Bélgica), y doctor en Economía del Desarrollo (Universidad de París I, Panteón-Sorbona). Doctor Honoris Causa de la Universidad Nacional San Agustín de Arequipa, Profesor Honorario de la Universidad San Cristóbal de Huamanga. Profesor e investigador visitante en: University of Toronto, York University (Toronto), University of California at San Diego, University of Miami, Université de Paris III, Sorbonne Nouvelle. Distinciones: John Simon Guggenheim Fellowship, Senior Researcher North South Center (U. of Miami), Fellow del The Woodrow Wilson Center, Cátedra Simon Bolivar (CIAL, Universidad Paris III, Sorbonne Nouvelle y Grants de investigación de la Ford Foundation, IDRC y ACDI de Canadá.
Asimismo, ha sido consultor de la CEPAL, Banco Interamericano de Desarrollo (BID), Banco Mundial (BM), Instituto Interamericano de Cooperación para la Agricultura (IICA) y de la Junta del Acuerdo Andino (JUNAC).