Gallery of Presidents
PhD. José Tola Pasquel
Term: 1977 - 1984 / 1984 - 1989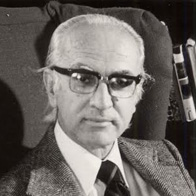 Mathematician, civil engineer, member of the National Academies of Sciences and Language, PhD. José Tola Pasquel was the first secular president of PUCP and also the first one trained in Science rather than in Arts.
PhD. Tola was president of Pontificia Universidad Católica del Perú in two consecutive terms: from 1977 to 1984 and from 1984 to 1989, after being elected vice-president from 1965 to 1970. He continued his tertiary education simultaneously at Pontificia Universidad Católica del Perú, obtaining a Civil Engineering degree in 1938, and at Universidad Nacional Mayor de San Marcos, obtaining a PhD in Mathematics in 1941.
Despite having developed a professional activity in the field of structural engineering for many years, he preferred teaching at university, which he practiced at PUCP since 1938, and doing research in the field of mathematics and engineering sciences. He served as dean of the Engineering School from 1947 to 1949.
PhD Tola was also president of the Peruvian Mathematical Society, dean of the Professional Association of Peruvian Engineers and member of The Inter American Committee on Mathematics Education. During those years, he was president of the National Academy of Sciences in Peru and honorary president of the Centro Interuniversitario de Desarrollo Andino – CINDA (Inter-University Center for Andean Development), as well as member of the Peruvian Academy of Language, member of the Institute of Hispanic Culture and member of The Colombian Academy of Exact, Physical and Natural Sciences. He was granted the highest distinction in Education by the Peruvian government "Palmas Magisteriales" – "Amauta" degree, and the French government awarded him the Academic Palms.
PhD. Tola Pasquel carried out several scientific research projects and was the author of many books related to his major. In 1990, he was appointed director of the School of Graduates, currently known as the Graduate School, position he held until his demise.